WELCOME TO OUR WEBSITE: This site is a record of our careers in dance, - as performers, creators and directors, - over a period of many years and across thirty different countries. It also includes news of our latest activities as writers, with details of Christina's new book Here Today, Gone Tomorrow, and regular reviews of dance performances.
Book Reviews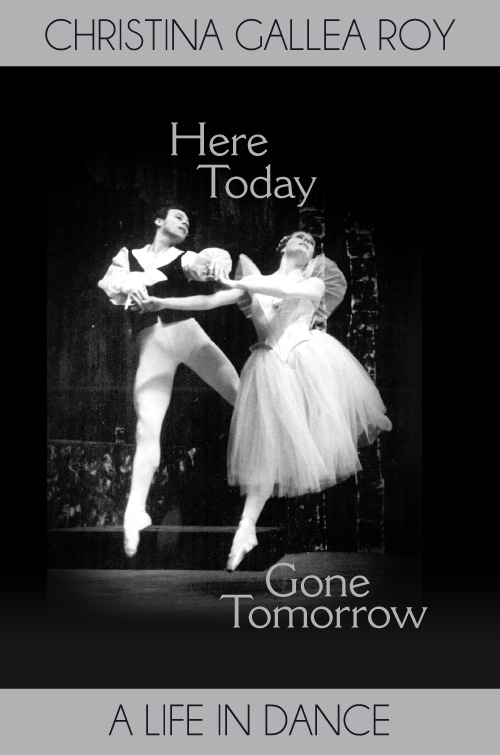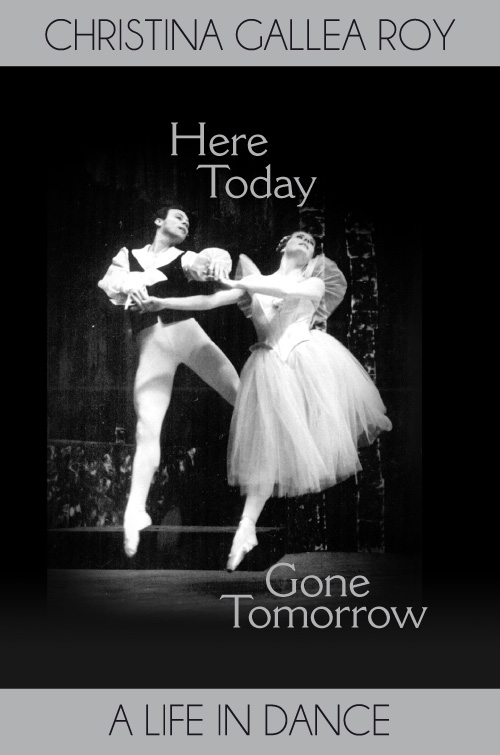 'Here Today, Gone Tomorrow' is available from all major UK bookshops, internet booksellers world-wide including Amazon.co.uk
 "I haven't enjoyed a dance book so much for a long time"
Michelle Potter – ON DANCING
"The book will be of great interest to any dancer, but Gallea Roy writes so picturesquely that it will be a rewarding read for any balletomane. A treat."
Amanda Jennings – DANCE EUROPE
"The book is fascinating on several levels: for those interested in dance there are vignettes of the big names they worked with in their early days. It takes us into the rehearsal rooms in London and Paris, and follows their success as a company of very high quality. In addition to giving a glimpse behind the scenes in the dance world from 1960's to the 1990's, this is full of fascinating anecdotes and unusual characters, illustrated with a treasure trove of photographs."
David Bellan – OXFORD TIMES
"In her acknowledgement, Christina says it was the opportunity and experience of writing for this magazine that gave her the impetus and courage to tell her story, which she vividly does in this well produced, richly illustrated book."Mary Clarke – DANCING TIMES
"It would be easy to pick this book up, glance at the blurb and put it down again : a long and detailed history of a small and long-defunct company… Discarding it would be a mistake though – a big one, if you're at all interested in ballet's recent history. This is a fascinating story and I would go so far as to call it an important one." 
JANE SIMPSON – DanceTabs.com
Rarely does a book come along that oozes so much passion for dance as Christina Gallea Roy's charming and detailed account of her life. Gallea Roy's descriptive detail provides a fascinating narrative that manages to capture hundreds of names of choreographers, dancers and dance works without ever seeming to be a work in which these necessary references outweigh the achievement of being a good read…… a purposeful and interesting account of what it was like to be an itinerant dancer in the latter decades of the twentieth century and her book is excellently illustrated throughout with over 100 photos, including several by the esteemed photographer AnthonyCrickmay, which capture the essence of Alexander Roy's choreography even if the steps are no longer danced. GRAHAM WATTS – London Dance.com
Here Today, Gone Tomorrow  is a great read, and a valuable record of a unique enterprise. There is a good index and the plentiful illustrations include some stunners by Anthony Crickmay. Get hold of a copy. ALAN BRISSENDEN – Brolga- An Australian Journal about Dance.
Gallea Roy writes candidly, uneuphemistically, with a gorgeous dry sense of humour that comes sparkling through. She provides informative insight into the personalities of renowned teachers at the time in Paris, depicts the daily challenges of an artist's life with subtlety and a well practiced eye, and intersperses touching anecdotes. The Roys maintained their optimism and courage, and remained true to themselves and their creativity despite financial shortages and constantly recurring cuts in cultural spending. Thirty-four years at the head of a company was not easy going, but it was a story of success. Here Today, Gone Tomorrow- A Life in Dance in an engaging, worthwhile read. ILONA LANDGRAF – Ballet Review (New York)
Read More
News and Reviews
February 10, 2021 |
2020 will be the year we shall all not forget. Firstly we must sympathise with the dancers, singers, actors,...